Back in February a very nice thing happened to me. Sara Lawson, who is a fabric designer for Art Gallery Fabrics posted a picture of her new fabric line, Fantasia, and offered to give some of it away! She asked that you send her an email telling her what you would make with the fabric, and she'd pick some people to send some to. I sent an email, but honestly didn't expect to be chosen. I was so surprised when she emailed me back and asked for my address!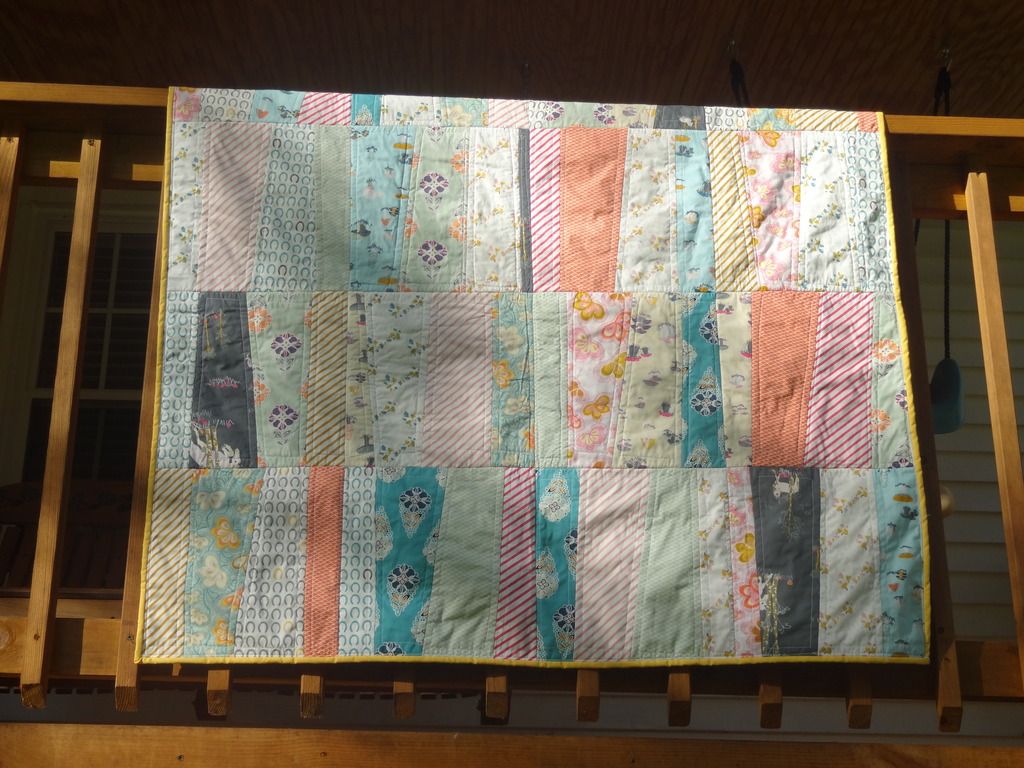 Chief Sealth Quilt in Fantasia Fabric

This fabric is beautiful! I love using Art Gallery Fabrics, because they are so soft. They almost feel like silk to me. I love the colors in this line. They are so unusual, and probably not something I would have paired together on my own, but I love the final result. The quilt I chose to make is called "Chief Sealth" and the pattern comes from Jera Brandvig's book
Quilt As You Go Made Modern.
This is one of my favorite quilting books, and I've made several of the projects in it, some of them multiple times. The quilts in it are beautiful, and come together pretty quickly and aren't complicated. I also love that they are made with precuts, which I LOVE to use! I searched through the book to find a pattern and when I realized that the Chief Sealth example quilt was made with another of Sara Lawson's lines, I knew that was the one I wanted. I did have to make some adaptions. The original pattern calls for 20 fat quarters, and has twenty blocks. I only had 18 fat quarters, so I left out my two least favorites and made 16 blocks. The quilt ended up being about 48" square. I thinks it's a nice size lap quilt. I decided to use a dark purple backing fabric to pull out the purples in the prints. My original plan was to bind with orange, but I couldn't find the quite right shade. This yellow seemed to work.
The Fantasia collection is so whimsical, and really does have a little girl fantasy quality. I love the little mushroom print, and the large-scale flowers. I also love the horseshoes and the stripes. But I think if I had to choose just one favorite, it would be the little yellow and pink flowers on a white background. It reminds me of the vintage sheets on my great-grandmother's bed when I was little. I am so thrilled to have been able to make a quilt from this beautiful fabric! And I'm really, really happy to have a finished project! The top of this quilt has been done for over a month now, but I kept putting off the backing and binding. I messed up the piecing of the backing fabric once, and put it away in my frustration. When I actually sat down to finish it, it only took about three hours. Now I can't figure out why I put it off at all! This pattern is fast, and simple and I'm so pleased with the results. Now, let's go finish something else from my "In Progress" list!