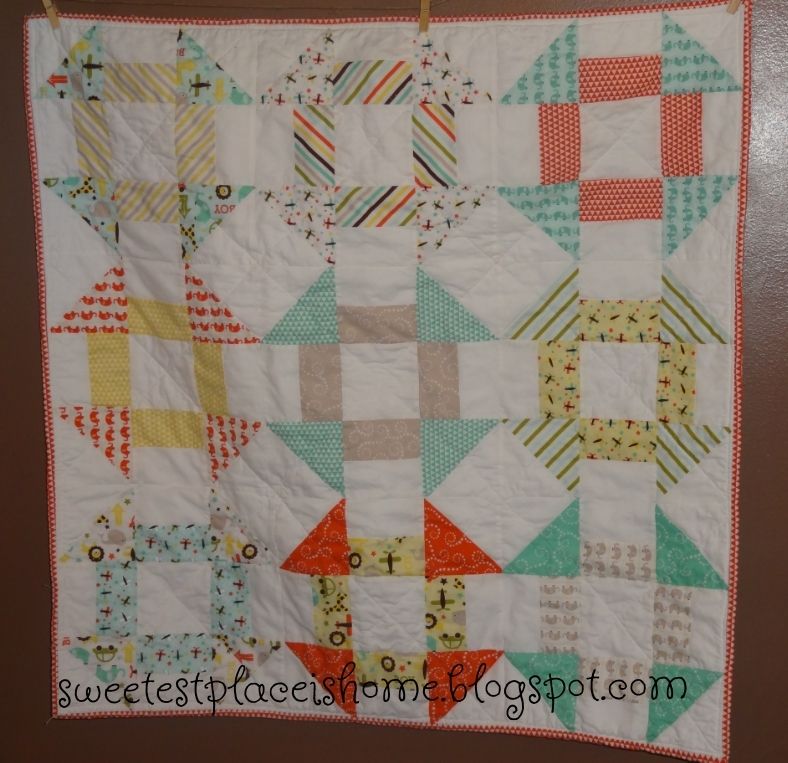 There is just something special about a classic quilt block. Maybe it's the knowledge that women have been piecing them for years and years--many with scraps from old clothes. One of my favorite quilt blocks is a Churn Dash. With modern piecing methods it comes together in a flash. I lean towards using more modern fabrics in classic blocks, and this one fits that description perfectly. It's actually a pattern I've made before, and I loved how it turned out both times. This finished quilt is about 36" square, and I think it's perfect for a sweet baby boy! I love that size because it's so easy to carry along with you.
This Churn Dash pattern is from Camille Roskelley's book Simply Retro and uses super-simple 5" squares and makes a finished 12" block. I love that just nine blocks makes a great baby quilt.
I used fabric from Lori Whitlock's "Oh Boy!" collection for Riley Blake designs for this quilt. I love all of the cute boy-themed prints! Cars, helicopters, lions, giraffes and elephants are all featured in bright yellows, oranges and blues. The background fabric is a Bella Solid. I think the bright white really makes the colors pop. I decided to just quilt it lightly with straight lines. It really makes the fabrics shine.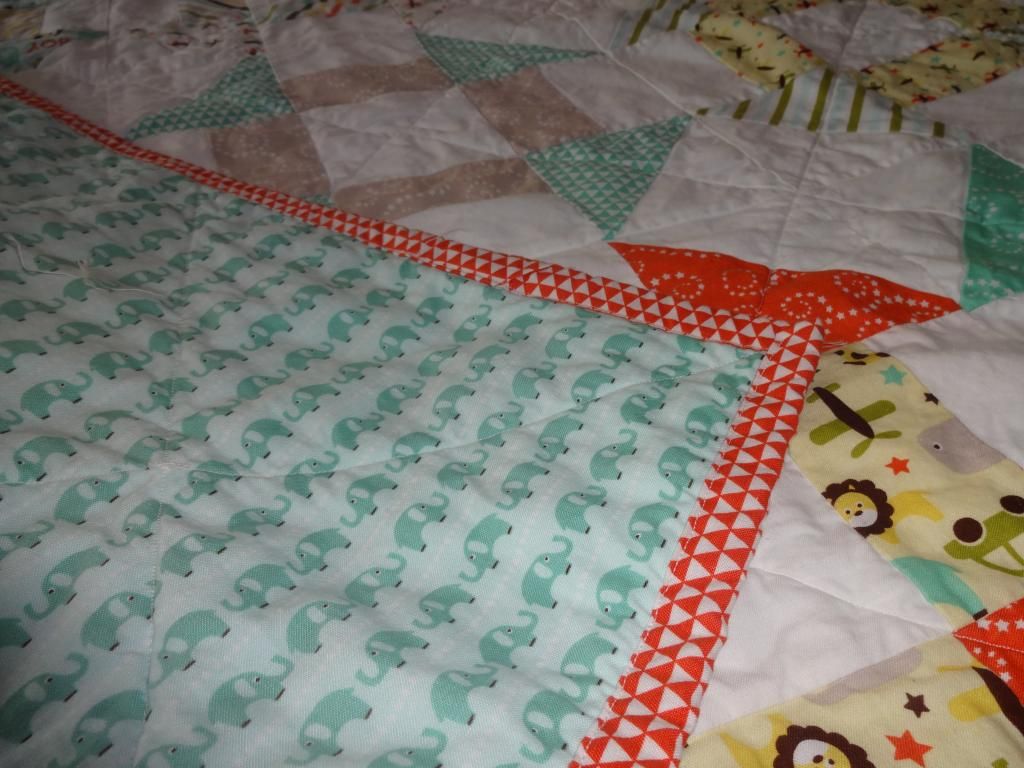 I always prewash my quilts before listing them in the shop. I just love that soft, crinkly look that a quilt gets after it's washed.
I chose the blue elephant fabric from the collection for the backing, and the orange triangles for the binding. Those fabrics actually ended up in the same block on the front, too, which was not my plan, but I guess it proves how well I thought they went together! I've recently learned how to machine bind quilts instead of doing it by hand. It takes less than half the time, and while it's admittedly not as pretty, it really makes the quilt more durable.
As the mom of an adorable baby boy, I had a really hard time listing this one in the shop at all. But my lose is your gain! This super-soft quilt is listed in my
Etsy shop
for you to purchase! I do have plans to make a baby girl version one day (maybe more that one!), but if you'd like one especially for you, please feel free to contact me and I'll be glad to make one for you!
Visit Little Blue Machine on Etsy to see this quilt and all of my other quilty items!
Lyndsie